To begin with I suggest to look at a picture in the big permission.
There is such Chinese artist
Lui Liu
which is known enough in China. In particular, the picture
«Chinese servants»
— gives very good understanding about world system in understanding of Chineses in which centre of the Universe without fail settles down Celestial. For the interested China far not a secret, that Chineses the nation haughty though Chineses will not say directly to you it.
Plot strange enough.
Naked and not so naked white aunts in the foreground, some sit on the earth. And Chineses also it is not visible, only are looked through somewhere on a background. At once there is a question on the picture name. Where, actually, servants. It is known, who the Chinese language is extremely rich on symbols and hints that promoted a wide circulation of allegories not only in the literature, but also in the Chinese art as a whole. I do not speak about riches of the numerology, leaving in an extreme antiquity.
For understanding of a plot of a picture, it is necessary to mean, that it is written in the beginning of 2009 when the world crisis generated by the USA, has captured a planet.
China, the unique country which crisis has avoided and on which, the West rests hopes, that China will pull out them from an economic crisis.
Therefore three plates up to the top filled with meal, it is possible to consider as a hint — guzzle the western barbarians, China is rich enough not to allow to die with hunger and you. Clear business, that at barbarians cannot be any culture of meal. They do not own the sticks, therefore the best for them is hands and like a dog from the earth.
Any country in the world has no the history comparable on duration with history of China. Any nation has no the number comparable to number of Chineses. Now supervises over China Hu Jintao. Pay attention to the Chinese on a background and compare to photo Hu.
Hu Jintao in image Chinese the hard workers which fruits of works feed also the western rabble in the foreground which in any way does not appreciate it, spilling meal on the earth.
By the way, about the USA. Quite probably, that the grown fat aunt in the picture centre, just also is image of America.
Interesting analogies are traced and with other silhouettes.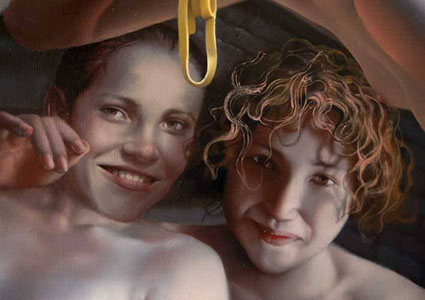 One more hint contains in the form of the poured stain. Compare a stain to a USA map.
The broken egg too is simple so, it symbolises the broken financial system of America.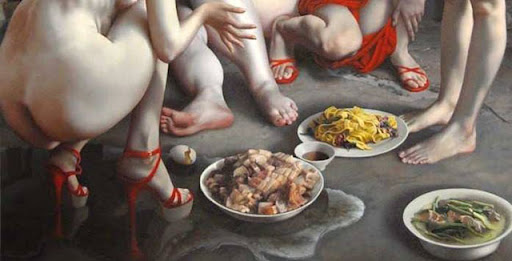 I think, that in a picture weight of other allegories which to the western sight simply are not clear. Thus the picture name sets thinking — who will be actually the servant in this world?
Related Posts: USA